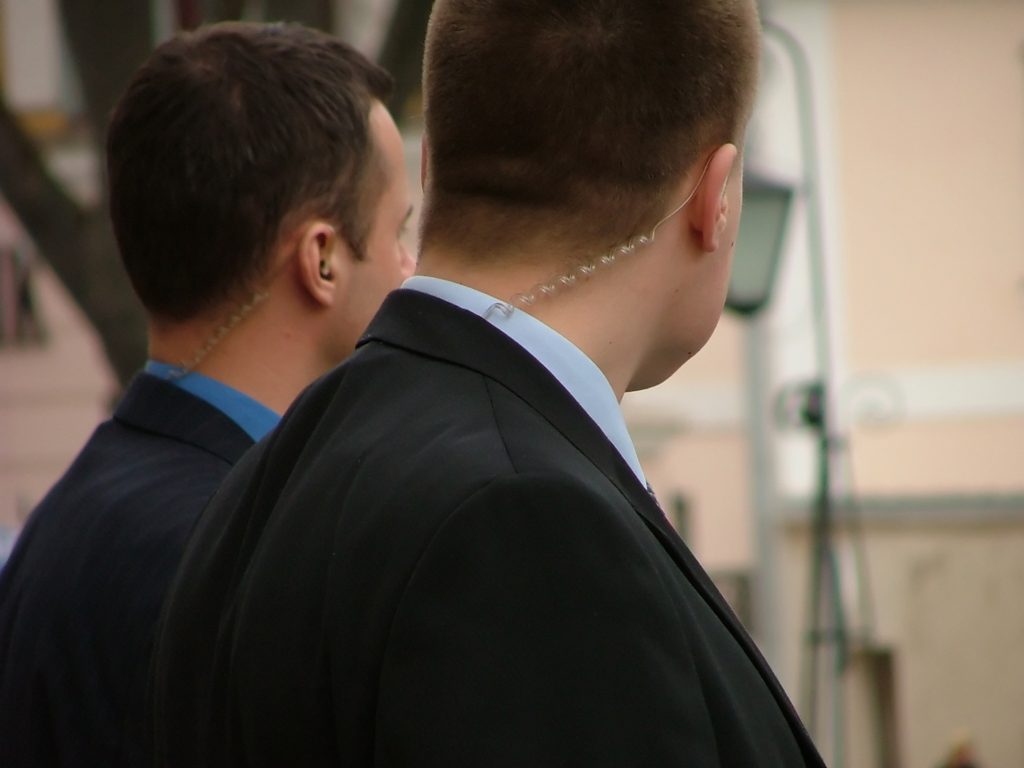 Honestly, becoming a professional bodyguard is a career path that most people simply aren't cut out for.
Aside from being in exceptional physical condition (and ready to kick ass when necessary), successful bodyguards are trained in a variety of tactical skills including threat assessment, surveillance detection, evasive driving and much more that we'll cover in a minute.
In short, you won't get very far up the bodyguard career ladder as just a big tough guy without the proper training to back it up and keep clients out of dangerous situations in the first place.
But if you are in great shape, can think critically in chaotic situations and–most importantly of all–are able to quickly learn and acquire new skills, a bodyguard career might be a great choice for you.
If you've already done some research into the close personal or executive protection (EP) industry, you probably already know that the path is nowhere near as simple or as straightforward as a lot of people make it out to be. Being a professional bodyguard today is nothing like the silly crap you see in the movies.
If anything, the best analogy I can use is that becoming a bodyguard is a lot more "secret service" than it is "nightclub bouncer". Unlike depictions in the movies or TV shows, much of your time as a professional bodyguard will be spent on low-key activities (depending on your specific role).
The range of skills and knowledge you need to perform your job at a high level can't be picked up overnight. If you have a military, police or security background, you're going to have a big leg up over your competition.
All that said, the best way to get started is…to get started! Let's dive in.
Understand the Industry
The most important thing to do first is research the executive protection industry and the job responsibilities (so you're already off to a great start by being here). The most skilled and advanced career bodyguards usually work in security detail teams around high-profile government officials or mega celebrities. Usually they will be employed by an agency (government or private firm), and be assigned specific roles as part of a protection team.
This is a very competitive industry, so don't expect to get hired and assigned to protect Scarlett Johansson your first day on the job. Early on in your career, it's likely you will be providing a supporting role within a team while you learn the ropes. This includes advance work like planning and checking travel routes, scanning venues and facilities for potential security weaknesses, and even sweeping hotel rooms for electronic devices (surveillance detection). You might also get assigned to a lower profile client where you are a lone escort and driver.
As you learn and master fundamental bodyguard skills, you will gain the confidence and respect of your team. This is where you can develop important relationships and build a professional network that you can rely on for future advancement opportunities as you level up. Establishing a solid reputation is especially critical in this industry, where colleagues have to be able to completely trust you with client safety.
Be in Exceptional Physical Condition
You wouldn't trust your life to an overweight smoker that couldn't make it up and down a flight of stairs without wheezing for their life, would you? Neither would a client. You need to be physically strong, have excellent stamina, and have good eyesight and hearing at a minimum. So if you've got a bodybuilder physique but can't jog around the block without throwing up, the best you'll do in this industry is being part of a meat wall in front of the stage at a concert.
Not only do you need to be physically fit and agile, but you must be mentally fit as well. As a bodyguard, you'll inevitably be placed in some very tense situations from time to time. You will need the strategic thinking and tactical fortitude to navigate stressful situations successfully and keep clients safe.
Get Training
You are definitely in the right place to learn all your options for professional bodyguard programs and courses. Bodyguards are frequently trained in the following areas:
Firearms
Tactical and evasive driving
Hand-to-hand combat
Tactical trauma and medical care
K-9 handling
Countersurveillance
Crowd screening
Advance research and planning
Risk assessment and monitoring
High threat detection
Location security analysis
Psychology and situational awareness
In addition to the above, professionally trained bodyguards will learn investigative techniques, personnel management operations, security etiquette and protocols, electronic device security and much more.
Like I mentioned before, think secret service level skills. Being a bodyguard means a client is trusting you with their life, which requires you being ready for almost any kind of threat.
Get Hired
It can be tempting to jump immediately into starting your own freelance bodyguard agency, but 99.999% of the time it makes much more sense to start out as an employee at a respected and established agency. Not only will you will receive free on-the-job training, you will start building your professional network and making important industry connections (not to mention earning the trust of clients, which will come in very handy if you decide to go freelance in the future).
All bodyguards will go through intensive background, criminal and credit checks. When a client is entrusting their life to you or an agency, they don't want to worry that you've got a shady background or a creditor who can put you in a blackmail position.
Next: Bodyguard Requirements